One option for accessing commands is to perform a search. Command Search

allows you to type the name of the tool you are looking for and activate it from the search results. Searching for commands can save you the time you might otherwise require to browse through menus. 
Note: For information on other options for accessing tools, visit Accessing tools.
Accessing Command Search
To use Command Search by default, your Single Key Action setting must be set to Command Search in Settings or Preferences. 
To learn how to access the Command Search function, expand the sections below:
If you have access to a keyboard, there are several ways to access Command Search:
Hotkey or keyboard shortcut:

macOS: Press X or Command + F
Windows: Press X or Ctrl+F 

Use the top bar (macOS or Windows only)

Windows: Select the Magnifying Glass
macOS: Type in the Search Commands field

From the main menu, select

Search Commands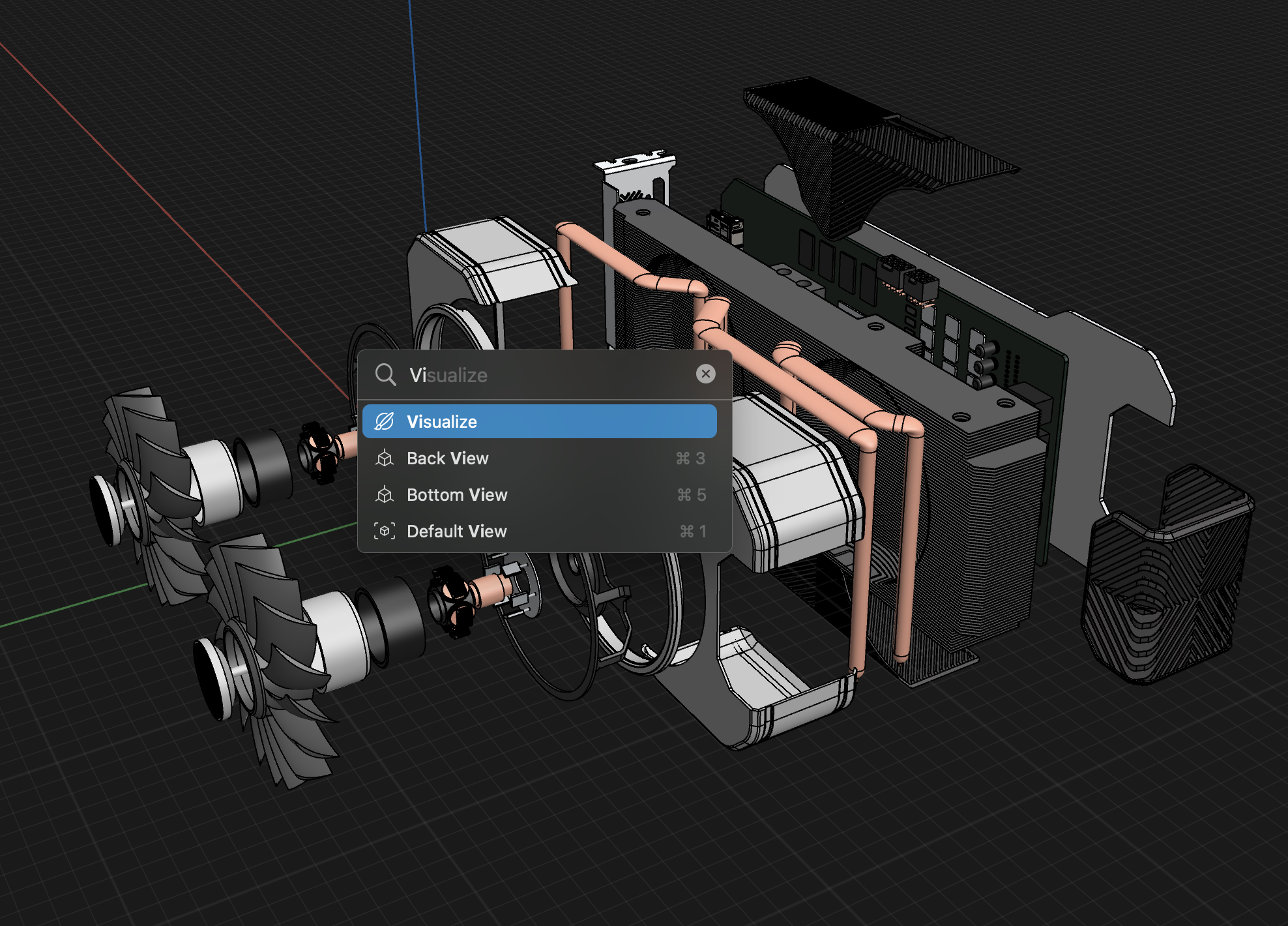 Read more
If you have an older version of Shapr3D, your default setting might still be set to trigger command search as you start to type. If you are on this setting, you can't use hotkeys or keyboard shortcuts for actions. For more details, visit Keyboard shortcuts, gestures, and hotkeys.
Go to Help > Search Commands.
Display the on-screen keyboard.
Use the on-screen keyboard to begin typing the name of a command.
Tips for Command Search
The search box automatically updates a list of search suggestions as you type. You can launch tools directly from the search field or the list of suggestions. You can also take advantage of other functionality of Command Search, like using it to access recent tools or pre-selecting items in your project to initiate a search for selection-based results.
Tip
You don't need to be precise with your search terms: Shapr3D automatically finds the best match to the letters you typed so you can even use shortcuts like "p3" for "Add Plane - 3 Points" or "snu" for "Scale - Non-uniform".
Explore the table below for more information on how to utilize these functions.
 

 

 

Keyboard and mouse/trackpad

 
Touch and pen
 

 

Auto-complete text

 

Press the right arrow

 

 
 

 

Cycle through suggestions

 

Press the up and down arrows

 

 
 

 

Run a command from search suggestions

 

When a suggested command is highlighted, press Return or Enter

Click a suggested command in the list

 

Select a suggested command in the list

 

 

Clear the search

 

Press Delete
Click the X icon

 

Tap the X icon

 

 

Access recent commands

 

Clear any text from the search field

 

Clear any text from the search field

 

 

Search results based on a selection

 

Pre-select items in your project, then launch Command Search

 

Pre-select items in your project, then launch Command Search

 

 

Close Command Search

 

Press Escape

Click outside of the search box

 

Tap outside of the search box